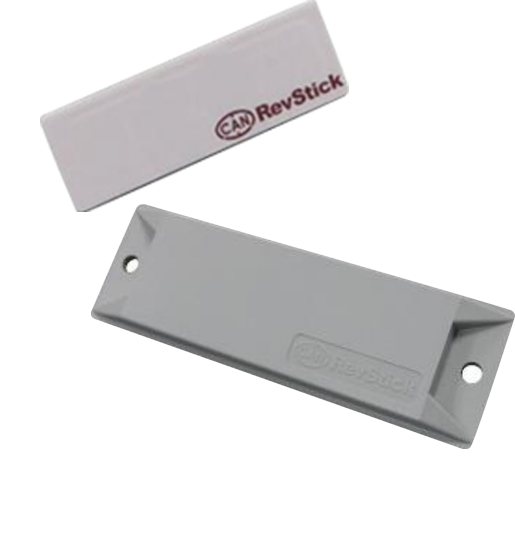 RevStick
RevStick is a UHF (Ultra High Frequency) RFID tag that ensures a stable data communication performance on metal. Two types available: a thin and flexible soft type and a hard type suited for outdoor use with a high weather resistance.
What is RFID?
RFID is short for "radio frequency identification," a general term for the identification technology using radio frequencies. It enables to identify and manage items and people by scanning the information written in IC chip tags and labels with a device called a reader/writer. Unlike 2D barcode, RFID features non-contact, simultaneous identification of multiple items.
Features of RFID tags
POINT

1

Tag antenna design to ensure stable long distance communication on metal

In general, RFID tags mounted on metal cannot be read and written since they are interfered by metal. We have come up with a solution to this obstacle by applying our technologies for tags used in beverage cans, successfully developing an RFID tag with an adequate communication range on metal.

POINT

2

Weather resistant and waterproof(1) to enable outdoor use

By utilizing packaging related technologies we have developed since our founding for over 100 years, this RFID tag achieves sufficient weather and water resistance to withstand outdoor use over a long period of time.
Note 1: The tag itself is waterproof but unable to communicate in submerged conditions.

POINT

3

Compatible with all frequency bands in the world

The RFID tag can be used in all frequency bands used in the world by adjusting the antenna pattern and controlling electrical properties of the substrate and its exterior materials.
Main applications
Property management / logistics management
RFID tags are used for logistics management by being attached to metal pallets, roll box pallets and cargo containers as well as for the management of pallets and other properties. They are also ideally suited for the management of near metal products such as laptop computers.
Others
Our development system for RFID tags
We are working on the development of various RFID-related products by applying the technologies we have built up for packaging containers. Our own testing and evaluation system allows us to achieve precise and accurate results and quickly respond to customer requirements, as explained below.
– Antenna simulation

– Measurement of electrical physical properties such as
 material permittivity

– Measurement of impedance of antennas and IC circuits

– Measurement of tag communication range

– Measurement of tag antenna directivity

– Weather resistance acceleration test

With various types of readers in place, we also conduct testing under real conditions for communication status that cannot be checked by simulation.

The photographs on the left and below show our own devices for measurement and weather resistance testing. In addition to them, we have sufficient measuring and testing devices and equipment to collect data which allows us to meet the demand from different users.
Our journey of developing RFID technology
Toyo Seikan is a leading company of packaging containers in Japan with a history of over 100 years since its founding.
In 2004, we embarked on the development of RFID before anyone else in the packaging industry. We believed that the RFID technology would be a key to future logistics management and information solutions related to packaging. Since then, we have worked on developing RFID tags used in combination with plastic caps for PET bottles and pull-tab ends for beverage cans.
During the course of the development, metal (material of containers we produce) and moisture (of the products packed in our containers) were major obstacles to achieving a stable communication performance due to material properties of RFID tags. Through many trials and tribulations, we have finally succeeded in creating an RFID tag that establishes sufficient long distance communication on metal.
Our RFID technology is now drawing attention of customers for various possible applications in which RFID tags are required to work on metal. Against this backdrop, we have decided to release our RFID product RevStick.