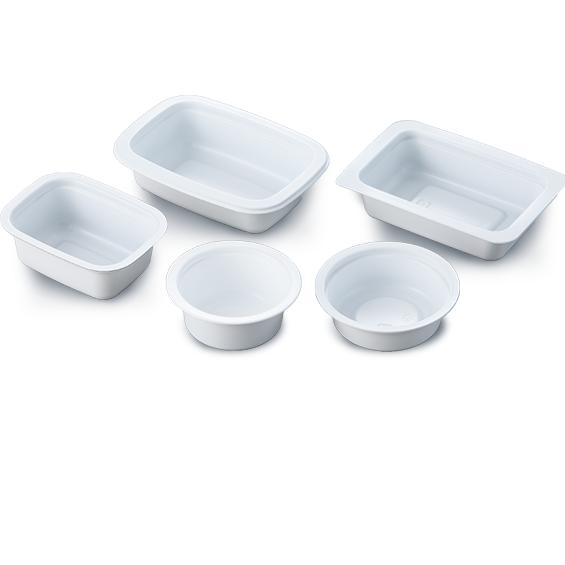 Oxyguard Containers
(Cup, Pouch, Tray)
Containers with a superior food preservation property by having the function of absorbing oxygen, a cause of deterioration for the quality of food products.
Features of Oxyguard containers (cup, pouch, tray)
POINT

1

Containers with superior food preservation property

High barrier property is attained by using the oxygen scavenging material developed by Toyo Seikan in the middle layer of the multi-layer structure. They not only prevent penetration of oxygen from the outside but also absorb residual oxygen trapped inside the container.
Oxyguard containers can reduce deterioration of contents during retort sterilization and storage to prevent browning, change in color and flavor, and the degeneration of ingredients (vitamin, etc.). Depending on applications, there may be no need to insert deoxidant, simplifying production process and preventing accidental ingestion of the deoxidant.

Oxyguard comes in the form of a cup, pouch or tray. As the first plastic cup, Oxyguard cup enabled coffee drinks or soup to be sold hot.

POINT

2

Microwavable

Although the oxygen scavenger is iron-based, Oxyguard can be heated in a microwave oven as long as there is no aluminum foil layer in the multi-layer structure.

POINT

3

Retortable

Retortable type can undergo retort sterilization.
Main applications
Food (cooked rice, baby food, soup, rice congee, fruit sauce, vegetables, etc.), beverage (coffee, etc.), medical supplies (outer pouch for IV bag, etc.)
Cosmetics (face pack, etc.)
Product lineup
Type
Package
Applications
Supply format
Mid to high moisture
Tray
Cooked rice
Sheet roll
Cup
Portion cup for fruit sauce
Pouch
Face pack
Film roll
Retort sterilization
Up to 105˚C
Pouch
Outer pouch for IV bag
Pouch
Up to 121˚C
Cup
Baby food, vegetables
Cup
Please contact us for details.
Others
Structure of Oxyguard
The oxygen scavenger developed by Toyo Seikan is used in the middle of the multi-layer structure with a barrier layer on the outside and a polyethylene or polypropylene layer on the inside. This layer structure prevents penetration of oxygen from the outside with the external barrier layer, while the oxygen scavenging layer absorbs surviving incoming oxygen. Residual oxygen inside the container is also absorbed by the oxygen scavenging layer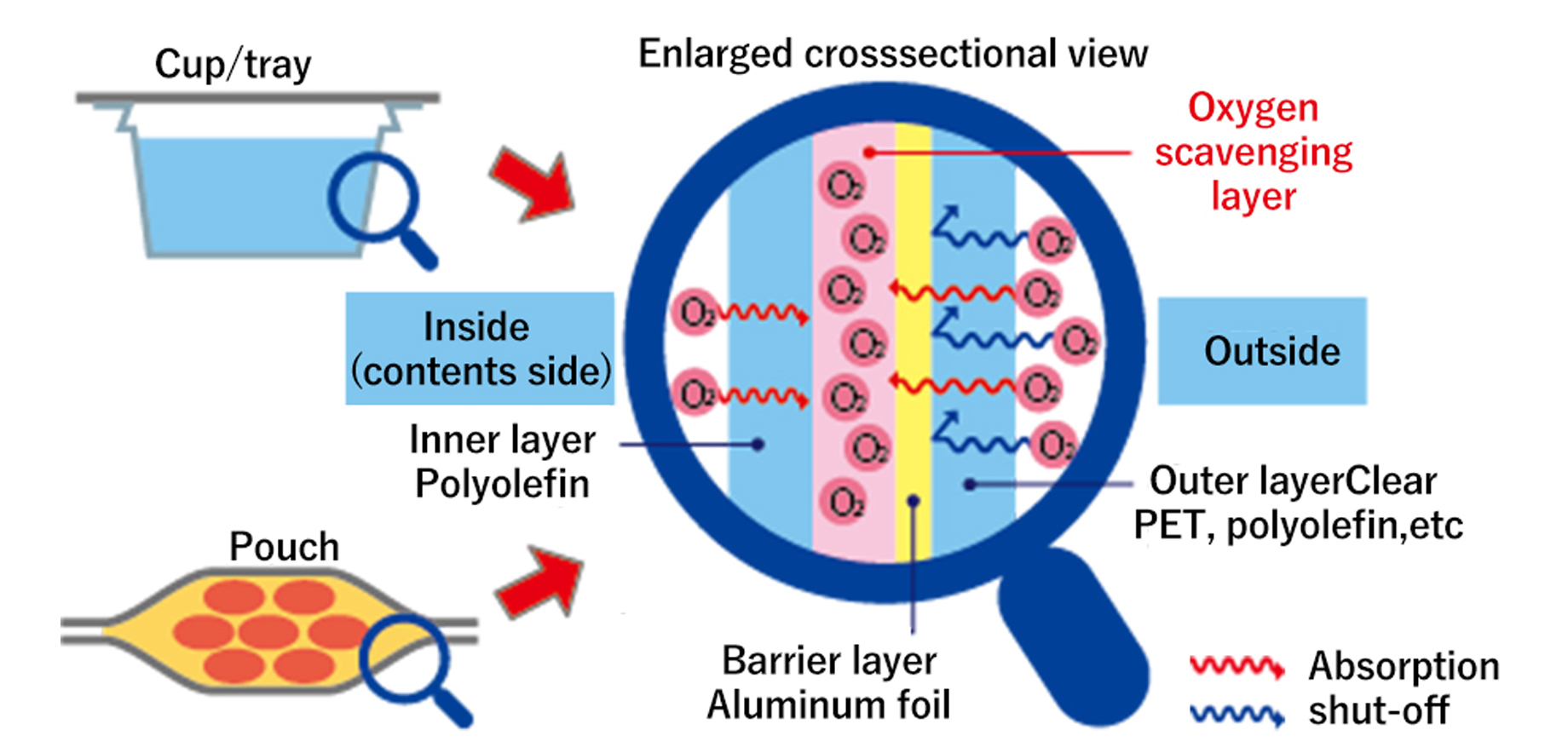 Oxygen scavenger
Oxyguard uses iron-based oxygen scavenger. The activation of oxygen absorption requires water and starts when the moisture inside reaches approximately 70%.
Absorption is accelerated by the heat from retort sterilization.
Effect of Oxyguard