E-RP, TRAVIS
A microwavable retort pouch with automatic vapor release mechanism.
It can also be heated in boiled water.
Features of E-RP, TRAVIS
POINT

1

Microwavable

It has enabled foods in retort pouches, which could only be heated in boiled water, to be directly heated in a microwave oven.
It is equipped with an automatic mechanism to release vapor generated during microwave heating.
There is no need to open the pouch for heating, allowing simple, safe and sanitary cooking. It can also be heated in boiled water.

POINT

2

A wide range of variation to choose from

It comes in different types, from flat and stand-up pouches to TRAVIS, which transforms three-dimensionally while it is being heated.

POINT

3

Friendly to environment

It is a container friendly to the earth as there is no special materials or attachments or complicated processing required.
By heating in a microwave, CO2 emissions can drastically be reduced (over 80%) as compared to conventional heating by boiled water. 。

POINT

4

Comprehensive support

We have a comprehensive system to support our customers in not only supplying containers but also providing equipment for retort sterilization and technical services.
Main applications
Foods (cooked rice, pasta sauce, gravy sauce, soup, curry, stew, etc.)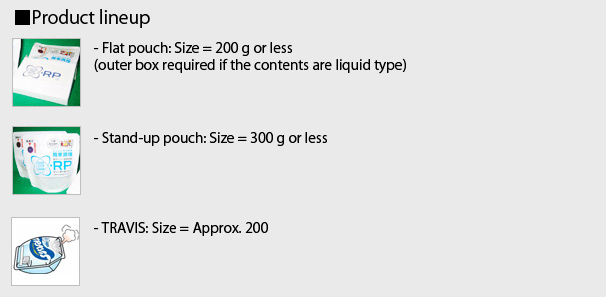 Others
Automatic vapor release mechanism
A mechanism to automatically release the vapor generated during microwave heating.
The punched hole and vapor-release seal is positioned at the spot where the internal stress from heat expansion concentrates.
Vapor-release seal is peeled off by the internal stress, thereby releasing the vapor through punched hole.
A simple structure without using other materials such as easy peel–off film.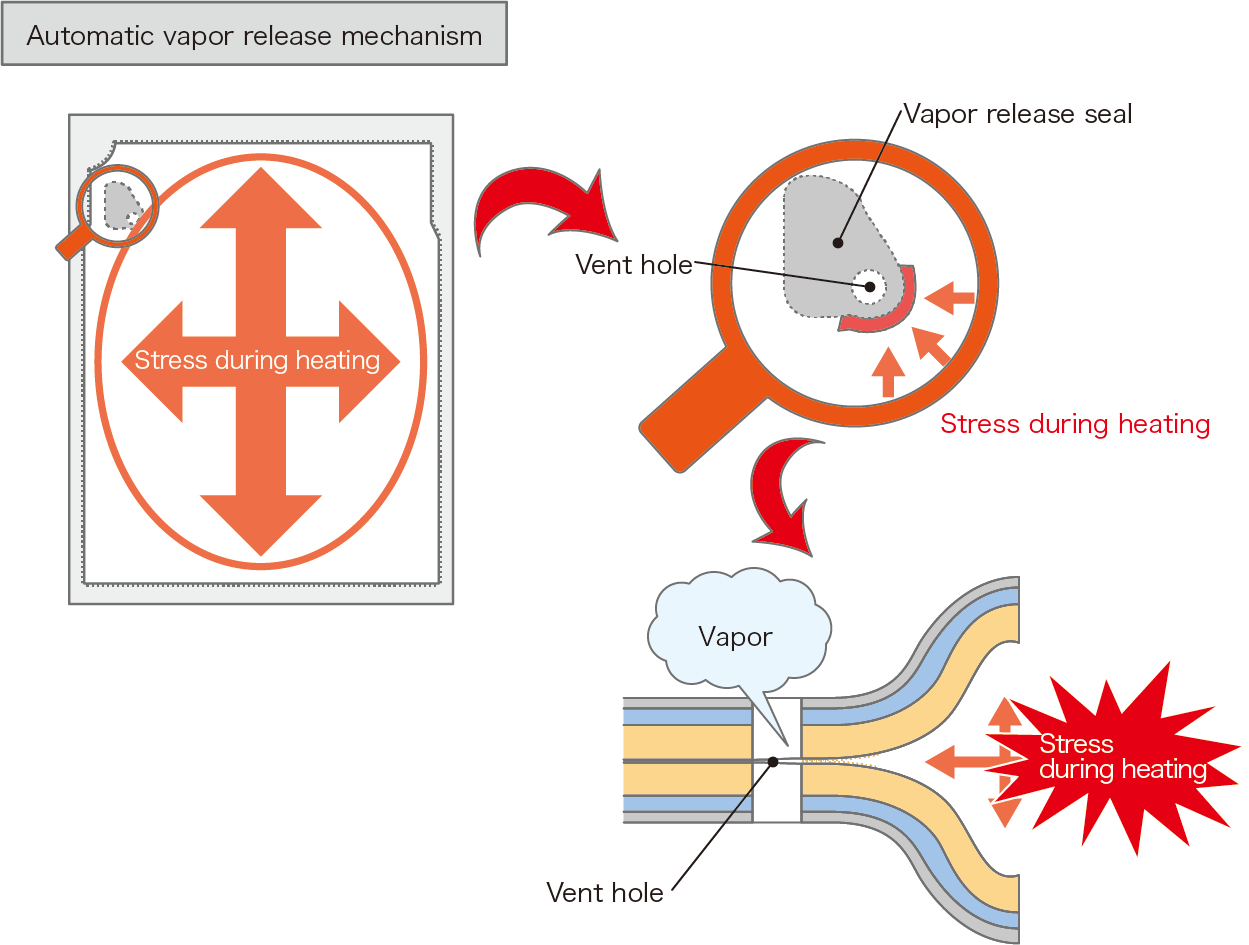 In the case of flat pouch
If the contents are liquid type (curry, soup, etc.), the vapor-release spot has to be at an elevated position so the contents won't spill from the hole. We offer specialized outer boxes to serve this purpose.

Vapor release indicator function
A mechanism to more safely use E-RP. The color change indicates whether the vapor is released from the hole.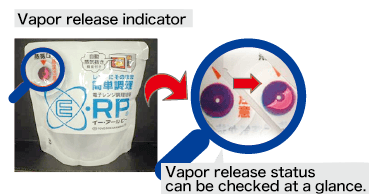 TRAVIS
TRAVIS is a new pouch developed from the unique idea of making itself transform three-dimensionally with the internal stress generated while the pouch is heated in the microwave.
In the case of conventional flat pouches, if the contents are liquid type, the vapor-release hole has to be elevated by the special box to prevent leakage from the hole.
While being a flat pouch, TRAVIS can be directly placed in the microwave without the special box.