Manufacturing process of TULC
Technology
Manufacturing process of TULC
TULC (Toyo Ultimate Can) is a 2-piece can with significantly improved productivity and environmental friendliness, perfected by radically reexamining raw materials and production process.
TFS (Tin Free Steel) laminated with PET film on both the internal and external surfaces is formed into a cup shape in the same manner as with the DWI can, and then the cup sidewall is thinned by stretch, draw and ironing processes.
Unlike DWI can, there is no coolant used during can forming process, eliminating the need to wash off the coolant after forming and subsequent waste water treatment. Since the can internal surface is laminated with PET film, there is also no need for internal spray coating, drastically reducing CO2 emissions from the baking process.
Can making process of 2-piece can (TULC)
Uncoiler

Uncoil can stock coil and feed downstream.

Cupping press

Stamp out coil sheet into cup shape.

Redraw press

Thin down can body sidewall with stretch, draw and ironing processes, and form can bottom.

Heat-set oven

Remove strain of the film with heat.

Trimmer

Trim down top edge of can sidewall to a specified can height, and inspect pinholes.

Printer

Print can surface and apply overvarnish.

Curing oven

Dry and bake cans.

Necker/Flanger

Narrow down and flange can top.

Can inside and outside inspection device

Inspect defects on can inside and outside.

Palletizer

Pile up cans on pallets and shrink-wrap the pallets.

End seaming (by customers)
Comparison of can making processes between TULC and DWI can
Ironing process for ADI can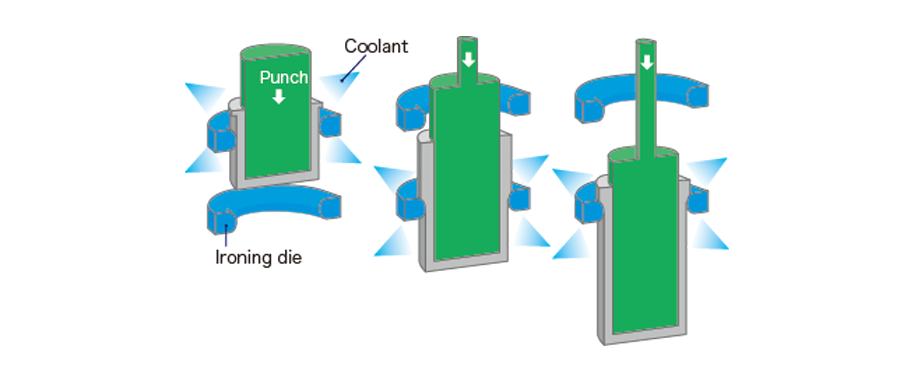 Can sidewall is thinned down by inserting the cup into a clearance between the punch sleeve and a set of ironing dies. As the coolant is sprayed during can forming process, subsequent can washing and waste water treatment processes are required.
Stretch and ironing process for TULC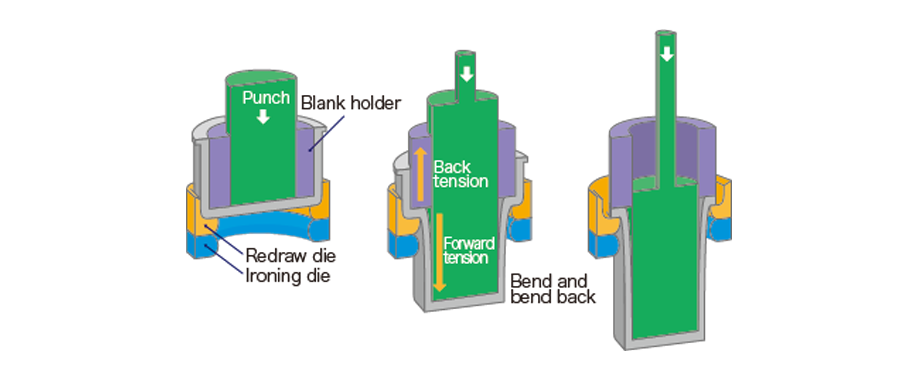 Stretch and ironing process is the basic forming method for TULC, which evolved from the stretch and bending process and employs the stretch, draw and ironing process, where the ironing process is performed with back tension. Since PET film serves as the coolant, this method needs no coolant, enabling the reduction of environmental impact by not using water while drastically reducing the can weight.
Contact us
Return to Technologies
How to Manufacture Other Cans